Water Damage in Greensboro
Weather Alert: If you are experiencing weather-related damage from the storm, call us today for emergency assistance!
911 Restoration of Greensboro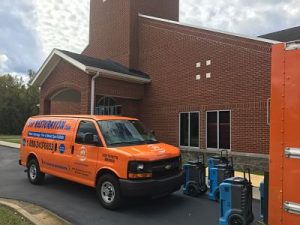 Sometimes, acts of nature like floods and ice storms can bring water damage in Greensboro and ruin all of that hard work. Property owners in the Greensboro area work hard to keep their homes and businesses in great condition.
At 911 Restoration of Greensboro, we offer a Fresh Start with our comprehensive selection of property damage restoration services, including but not limited to:
Whether you're a Greensboro homeowner or business owner, 911 Restoration of Greensboro is your Fresh Start! We'll communicate with you throughout the entire process, help answer questions related to insurance, and restore your property to its pre-damaged condition. One of our IICRC-certified teams is dispatched within 45 minutes of your call! Contact us today, and one of our friendly representatives will assist you in finding the nearest Greensboro location.
Water Damage Restoration in Greensboro
The rainy weather around Greensboro can increase the odds that your property will need water damage restoration. Property owners in our area also have to worry about winter storms and ice dams throughout the colder months of the year. Cold weather can also lead to frozen pipes and plumbing emergencies.
911 Restoration of Greensboro is a water damage restoration company with years of experience. Our technicians use professional-grade equipment to quickly:
Take Care of Water Extraction
Remove Any Hints of Moisture through Dehumidification
Assess the Need for Mold Removal Services
Here at 911 Restoration of Greensboro, we understand that you might need water damage restoration in a wide range of circumstances. We offer water damage restoration services to property owners that are dealing with:
In these winter months, dropping temperatures can lead to disasters on your property. Colder temperatures can potentially cause you to have frozen pipes. If your pipelines are not well maintained, the moisture from the water in a frozen pipe will expand and create a pipe burst. Consequently, this will lead to additional headaches such as basement flooding and mold growth. 
It is important that you begin the water damage restoration process quickly. Water can damage the structures of your home or business, as well as your possessions. Prompt water damage restoration in Greensboro can also lessen the odds that mold will begin growing on your property. 911 Water Restoration can offer the water damage restoration services you need today at (336) 310-5344.
Service area map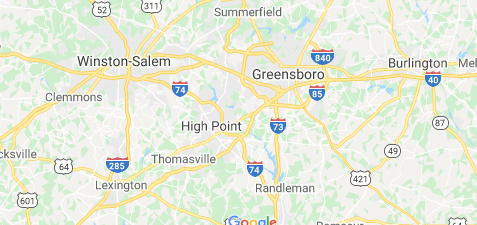 Sanitization Services & Disinfection Solutions
The coronavirus pandemic has reached a global status in its impact. At this point, every business and person has been affected by this virus. Only by working together towards a solution can we fix this problem. The first step we can all do is to make sure we maintain our personal hygiene.
In the case of property owners, they can take things a step further by working to ensure their buildings remain sanitized according to protocols. These protocols are how the people who come and go will stay as protected as possible. That's why 911 Restoration of Greensboro is standing by ready to provide sanitization services in addition to various disinfection solutions for both residential and commercial properties. Each of our technicians stays on top of their training to ensure full compliance with all current CDC and EPA protocols in an effort to deliver optimal results with our sanitization services. As part of the Greensboro community, we'll do everything in our power to provide you with peace of mind.
Mold Removal
Mold grows quickly in areas that are damp and dark. Water damage often provides mold with an ideal place to thrive, especially if you are dealing with basement flooding. 911 Restoration of Greensboro can offer immediate mold removal services around Archdale and High Point. We even offer a free visual mold inspection for property owners only.
Mold removal often requires professional help. Some forms of mold are dangerous to your health. Our team has the equipment and training to take care of mold removal quickly and safely.
Be aware that even a small amount of mold can indicate a much larger problem. Mold removal requires us to search for moisture behind walls and under floors. The 911 Restoration of Greensboro team works through mold removal with:
Contact us today at (336) 310-5344 to ensure that your mold removal needs are handled properly.
Fire Damage Restoration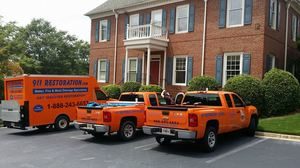 Property owners in Greensboro may be used to the rain, but flooding is not the only threat to your property. Fires can also strike suddenly, leading to severe damage around High Point and Archdale. Even a small fire can require fire damage restoration services.
Fire Damage Greensboro can take charge after any fire damage to your property. The team understands that the fire damage restoration process requires:
Technicians will utilize cutting-edge technicians to finish the fire damage restoration process in your property. Property owners should be aware that water damage restoration in Greensboro is often required after a fire, as well. After all, firefighters may use tremendous amounts of water to put out the flames. This means that you need a full-service restoration company to handle fire damage restoration properly the first time.
Complete fire damage restoration services should return your home or business to better-than-new condition. Let us visit your property today to assess the best methods to carry out fire damage restoration for you.
Disaster Restoration
Natural disasters are an unfortunate fact of life that many property owners will have to deal with. 911 Restoration of Greensboro can take care of disaster restoration services the right way. Our team can provide you with water damage services in Greensboro such as:
We can even pack out and store your possessions until the storm or disaster has passed. Contact us if you need water damage restoration, fire damage restoration, or mold removal services after a disaster. Call mold removal company greensboro at (336) 310-5344 and see how we can help.
Sewage Backup Cleanup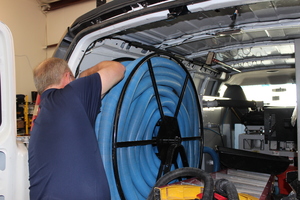 The majority of homes and businesses in the Greensboro area contain intricate plumbing systems. Most of the time, plumbing systems function in the background, never really thought about until there is an emergency.
Sewage backups are a major emergency that can strike without warning. Property owners need to seek out immediate help for a sewage backup cleanup. Sewage can contain dangerous pathogens that you should not clean up on your own. Technicians at 911 Restoration of Greensboro can use protective equipment to remove sewage and disinfect your property safely.
In fact, sewage backup cleanup should be taken care of quickly. Note that sewage backup cleanup can require water damage restoration and mold removal services, depending on the size of the backup.
911 Restoration of Greensboro is a full-service property restoration company. Our team offers disaster and water damage restoration services in Greensboro, Archdale, High Point, and surrounding areas. Let us provide you with the steadfast services you need for water damage restoration, fire damage restoration, and mold removal.
The IICRC-certified team can make sure that your property is clear of mold through the 911 mold restoration process, so you can breathe freely once more.
Technicians can reach your property quickly and won't give up until your home or business is returned to the pristine condition you remember. Get the help you need by contacting us today at (336) 310-5344.
Serving the communities of Archdale, Belews Creek, Browns Summit, High Point, Jamestown, Pleasant Garden, Summerfield and surrounding areas.