Greensboro Disaster Restoration Services
Greensboro is the perfect community to buy a home or open up a new business. But property ownership isn't without its drawbacks. From fire to flooding, a disaster can strike your building at any time. Whether your home or commercial property has suffered from water damage, a mold infestation, or a severe fire, you need to call a professional disaster relief company now. 911 Restoration is available 24/7/365 to provide you with quality emergency restoration services.
We are a local franchise that is part of a national company and proudly serves the residents of Greensboro, High Point, Archdale, Summerfield, and the surrounding areas. Our licensed, bonded, and insured technicians are industry experts who have years of training and experience. 911 Restoration will be at your location within just 45 minutes to help restore your property and get your life back on track.
Greensboro's Go-To Emergency Restoration Team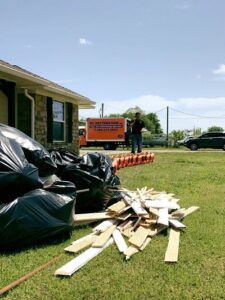 Greensboro is a tight-knit community and local residents will help out their neighbors at the drop of a hat. 911 Restoration is here to help you when times get tough. Our disaster restoration professionals will provide you with a free visual inspection for property owners only, as well as a free insurance consultation. After we identify the damage, we'll immediately get to work handling:
water damage restoration Greensboro NC

Emergency boarding up

Smoke removal

Fire damage restoration

Mold decontamination

And more!
When disaster strikes, you need a team that you can trust. 911 Restoration of Greensboro is your go-to water damage restoration company. We are available 24/7 to make your home or commercial building safe and secure once again.
If you have a leak, pipe burst, or sewage backup in your building, it can quickly escalate to a huge indoor flood. Water will destroy your precious possessions, damage your home's structural integrity, and harm your health. Did you know that a flood can lead to a mold outbreak? Mold exposure can cause respiratory issues and more. Never ignore a water damage problem. This will only lead to bigger and costlier repairs.
As soon as you suspect that your residential or commercial property has a flooding problem, call 911 Restoration of Greensboro. Our specialists are standing by now to assist you. We offer comprehensive disaster restoration services and can deal with:
Burst pipe emergencies

Ceiling leaks

Basement flooding

Sewage backups

Emergency storm damage

And so much more
Mold can eat away at your building and make it hazardous to stay in. 911 Restoration of Greensboro can find the source of the mold and clear out every mold spore from your home or office building. This will make your property safe and comfortable once again.
If your house or storefront needs water damage restoration services, call us now. We'll be there soon.
Fire Damage Restoration in Greensboro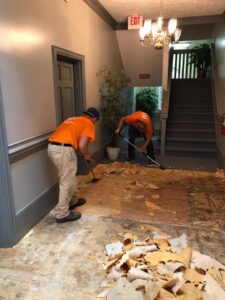 Water isn't the only disaster that can harm your business. Fire can severely destroy your commercial or residential property. If your home has caught fire, call 911 Restoration of Greensboro now to help restore the smoke damage.
Our fire damage restoration technicians are here to help. We will help you deal with the cleanup, as well as directly deal with your insurance company. We understand how much stress you're feeling right now. That's why we're here for you.
With over 35 years of experience, 911 Restoration of Greensboro can assist you with smoke cleanup, odor removal, emergency boarding up, and so much more. We're available around the clock to remediate the fire damage. As soon as the flames have been put out, call our crew to solve your smog damage problem.
911 Restoration is dedicated to helping you find a Fresh Start after a fire. We'll rebuild and repair your commercial or residential building and make it better than it was before. Best of all, we'll assist you through the entire process. From offering a free visual inspection to assisting you with your insurance claim needs, our technicians are always in your corner.
We also are IICRC-certified mold removal experts. If you smell a musty odor or see green or yellow stains on your walls, you might need mold remediation services.
To find the relief you need and deserve after a disaster, contact 911 restoration inc today.
Serving the communities of Archdale, Belews Creek, Browns Summit, High Point, Jamestown, Pleasant Garden, Summerfield and surrounding areas.