About 911 Restoration Greensboro
Joe Epperson, the owner of 911 Restoration Greensboro, provides water removal with a sense of integrity. He believes that he and his team are leaders through support by always putting the customer first.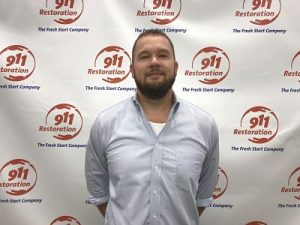 Even though the branch is IICRC certified and is licensed, bonded and insured, Joe holds the most pride in the company's Fresh Start Attitude.
The Fresh Start Attitude is more than just having a positive mindset. It is about lifting people up when they are feeling low and showing them that there is hope in even the direst situations.
This might translate into reassuring a family that their beloved home is going to look better than ever once the water damage is repaired or it could simply be answering the question of a concerned property owner.
No matter what may be occurring, Joe hopes that bringing the Fresh Start Attitude to the customer will give them peace of mind in an otherwise chaotic situation. He is humble and respectful to all of his clients because he knows first-hand of the trauma that comes with property disaster and works hard to calm the situation in any way he can.
The Greensboro staff will file your insurance paperwork to get you the most from your homeowner's policy and listen to your needs during the restoration process. Anything he can do to make the situation more comfortable for you, 911 Restoration Greensboro will do.
The Fresh Start company is the right choice for your water damage restoration, mold removal, sewage cleanup, or fire damage restoration job. So, if your home or office has recently gone through a disaster of any kind, contact our disaster restoration team in Greensboro today!
Disaster Prevention Tips from 911 Restoration Greensboro
Joe knows that when it comes to water damage restoration, time is of the essence. The longer water damage sits on the surfaces and walls of your property, the more damage it can do.
To minimize the damage and prevent mold growth, Joe keeps his technicians available 24/7/365. When you call us with a water emergency, it doesn't matter what time it may be; Joe guarantee's his experts will arrive on your property within 45 minutes of receiving your call.

Greensboro is prone to experiencing storms, which can be particularly destructive to homes and businesses in the community. Even though Joe and his team act fast during these situations, it is still wise to maintain your property all year round to protect it when a storm does hit.
911 Restoration Greensboro is all about helping the community. Therefore, Joe is here to offer you these helpful tips to make it through the storm season:
Make sure your rain gutters are free of leaves and other debris before major storms hit. If rain is not able to smoothly flow through the gutters, it will create leaks in your roof.

On the same token, you want to make sure your landscaping is taking water away from your home. Otherwise, the precipitation will flood your foundation and cause cracks in the house's support structure.

In the event water damage does occur, it is of utmost importance that you seek help from professionals. Water has a way of hiding beneath the floorboards where it will cultivate mold and produce other unhealthy problems.
Joe wants you to feel comfortable relying on his crew for all your disaster restoration needs. So, call the water damage technicians for expert help and fast relief from mold, fire, sewage, and water damage.
Professional Assistance With Your Water Damage Insurance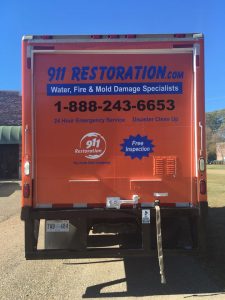 Before joining the 911 Restoration family, Joe worked for Nationwide Insurance for over 15 years. Throughout his experience in the insurance industry, he assisted many people with filing claims concerning water damage restoration.
Since Joe is so knowledgeable in both fields, he can help customers better understand their insurance policies after a disaster has occurred in their property.
Many customers that Joe works with have never had to file a water damage restoration claim before, and they are not sure which repair services are covered by their policy.
Joe and his staff will go through your policy with you to figure out your coverage and even file your claim for you on your behalf. He wants to make sure you get the most coverage out of your insurance policy, this way you feel entirely comfortable during the restoration process and won't have to worry about any of the financial logistics.
Joe realizes that water damage and insurance go hand-in-hand, and he feels lucky to have been able to work extensively in both industries. So, if your home or office has become flooded after a storm or you notice signs of mold growth, contact our water damage restoration Greensboro team right away!