Sewage Backup Greensboro
Sewage backup is an opportunity for 911 Restoration Greensboro to shine as the positive in such a negative situation. We have full hazmat suits and proper training to return health and happiness to your property after such an event.
Our sewage backup Greensboro crew understands the nature of a toilet overflow and other similar situations, and we also know the best ways to clear the toxic waste without injury or disease.
Due to the caustic presence when waste water enters a home, it is important to stay away from the predicament and rely on our 911 Restoration sewage backup Greensboro professionals for sewage cleanup.
After the water is clear, we check for mold and sanitize the area to remove any disease.
Call 911 Restoration if you suspect trouble with your water line and we will be there within 45 minutes to assess the damage and start the flood cleanup.
Professional Sewage Cleanup
911 Restoration values professionalism, so all of our sewage backup Greensboro staff are fully certified by the IICRC for water extraction, mold remediation, and odor removal.
We know how to make it so all evidence of a pipe burst or other category 3 disaster is erased. When you come back home after 911 Restoration has finished the job, your new bathroom will be spotless.
Do not try to clean the mess yourself as the water is harmful and full of diseases. Even if you do manage to avoid sickness, the possibility of left over bacteria and mold is very high.
In order to help you with this, we offer a free visual mold inspection. If excess moisture has stained a room for more than 24 hours, a mold colony has likely sprung up.
We have the means to get rid of the spores and save your home from all the possible trouble from both black water and black mold.
It is vital you seek professional help when such a disaster strikes in order to keep your family safe. 911 Restoration and our sewage backup Greensboro specialists are available 24/7 to help you.
Recovering from Sewage Spills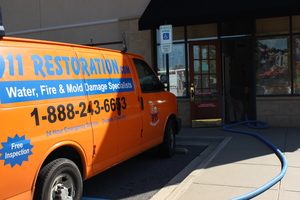 Whether there is a toilet overflow, a clog in the outgoing line, or some other incident that causes sewage to enter your living space, our sewage backup Greensboro experts will lead you through the ordeal by supporting you every step of the way.
We work with all insurance companies, so if you have a sewage rider on your homeowner's insurance policy, we will make sure you receive the funding you deserve, and in many cases this means we can remodel your entire bathroom.
If you do not have an insurance policy that covers sewage backup, we will work with you on the price to make sure you get the help you need.
Call our sewage backup cleanup Greensboro team with 911 Restoration Greensboro for your fresh start and see how we put the customer at the forefront of our services.