Cleaning Your Chimney – How to Get Rid of Smoke Smell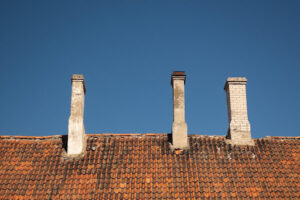 A fireplace is a popular feature of any home since it is aesthetically beautiful and calming. However, if you have been using your fireplace frequently or after a long time of inactivity, you must clean it or hire expert chimney cleaning services so they can examine and clean it for you.
It would help if you opted for chimney cleaning frequently to remove soot and deposited creosote, which can cause a fire. This article will demonstrate how to execute the chimney cleaning process to determine if you would like to do it by yourself or pay for professional chimney cleaning services.
Why Do You Need to Clean Your Chimney?
Creosote accumulates within the chimney once you start using the fireplace. This combustible material has the potential to spark and scatter a fire throughout your chimney and then into your house. Sometimes a tiny chimney fire will cause severe damage to the chimney liner, making it more prone to subsequent fires.
Chimney cleaning or brushing is a fantastic strategy to keep it clean and safe, especially if you clean it at the beginning and end of the regular seasons. Frequent chimney cleaning helps lessen the chance of a chimney fire. Even if you would like to clean or sweep it yourself, you should call a professional like 911 Restoration of Greensboro for periodic maintenance and examination. An expert checkup will look for creosote along with obstructions, damage, and fundamental issues.
Chimney Cleaning – DIY Rules
Based on the below-mentioned factors, chimney cleaning can be a do-it-yourself project:
Amount of Soot and Creosote Accumulation
If you detect 1/8 or more inches of accumulation, or whenever you discover signs of a significant buildup of creosote, you should hire professional chimney cleaning services. If the accumulation is less than that, then you are good to go.
Expertise and Technique
If there is not much soot or accumulation, you might be competent to accomplish the task yourself. It also depends on your skills and if you go for chimney cleaning from the fireplace or roof. If you do not have much experience with chimney cleaning from the roof or higher and steeper, we suggest you get professional help. 
Steps for Chimney Cleaning
The following are general chimney cleaning procedures for the top to bottom and bottom to top methods. Carefully read the recommended guidelines and warnings before using any tools for chimney cleaning. Even if you decide not to clean the chimney yourself, study the processes so you comprehend the job that a trained chimney cleaner will accomplish for you.
Collect the Required Tools for Chimney Cleaning
You will need specific tools for chimney cleaning, such as chimney cleaning brushes and brush rods, tarpaulin sheets, a flashlight, a mirror, and a vacuum cleaner. To determine the right size of chimney cleaning brush, you will have to measure your chimney's inner diameter. 
The brush must be about a 1/2 or 1/4 inches bigger than the flue liner diameter. Any brush smaller than that will not be helpful, and if you use a larger brush, then that will be troublesome to use and might get trapped in the chimney. You should also check if the brush is appropriate for your chimney style.
Clean the Fireplace
Lay a tarpaulin sheet around the fireplace to cover the carpets and flooring from any mess. Remove all the woods and coal from the fireplace and remove the andirons so you can access the space easily. Place all the necessary tools for chimney cleaning near you so you wouldn't need to grab anything in between work.
Open a window for some time so that the air pressure inside your room can be equal to outside. This will help to prevent a bigger mess when you open the damper.
Check the Flue Liner and Smoke Chamber
Wait for some time for the interior to settle the air pressure equilibrium with outside before opening the damper. Point a flashlight into the smoke chamber above the fireplace and straight into the chimney. You can also use a mirror to better view the inside. Check for accumulation by scraping the flue liner and other inner surfaces with a spade or metal rod.
Remember the Safety Measures
If you are going to clean the chimney from the roof, you should cover the fireplace opening with thick plastic sheeting to ensure all the mess that falls does not spread in your room.
If you are cleaning the chimney from bottom to top, you cannot cover the fireplace opening. It would help if you protected your place and yourself. We recommend you wear safety gear and cover all the valuable items so that everything, including you, is safe.
Start Cleaning the Chimney
If you are cleaning the chimney from the roof, you will need to remove the chimney cap and insert the brush. If the chimney brush is the right size, you will experience some resistance. Keep adding more rods to the brush to reach deeper and clean thoroughly. Put the cap back once you are done.
If you clean the chimney from the inside, insert the brush from bottom to top and clean the chimney with an up and down movement. Keep adding more rods to the brush so you can reach higher and clean the smoke shelf thoroughly.
The Final Cleanup
It would be best to use a flashlight and a mirror to see how much is left. Let the mess settle once you are done, and use a vacuum to clean it all up. Using a sweeper might spread the mess more instead of cleaning it. Carefully put all the debris in a sealable bag and dispose of it off.
Conclusion
We hope this guide helps you with chimney cleaning and if you have realized that this job is not for you, simply call an expert like 911 Restoration of Greensboro to provide you with chimney fire damage restoration and cleanup services.