Mold in the Dishwasher: Can Your Dishwasher Develop Mold?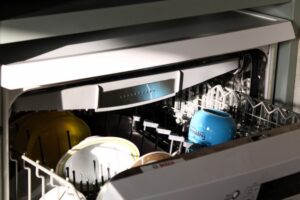 Out of all the places in the kitchen, nobody expects mold in the dishwasher. Yet, it remains a common sight when your dishwashing assistance continues to operate in warm and wet conditions without getting some TLC from you.
911 Restoration of Greensboro provides extensive mold and water damage restoration to residential and commercial spaces.  Our home restoration experts know how to handle all types of icky, musty mold in the dishwasher.
However, before we explain how our mold remediation service works, we should give you an overview of why it occurs in the first place.
Here's everything you need to know about mold dishwashers:
The Premises: What Causes Mold in the Dishwasher?
Unclean filters and gaskets can become a breeding ground for mold due to their warm and humid conditions.  The damp and dark corners inside the appliance are particularly riddled with bacteria, mold, and unpleasant particles. These microscopic particles linger undetected until things begin to escalate and visible signs of infestation begin to appear.
The primary reasons for fungal development in dishwashers include:
Prolonged moisture accumulation caused by clogs in the filter
Leftovers and crumbs lodged in the dishwasher can react with air to form mold
Undetected water damage caused by plumbing issues can lead to moldy dishwashers
Recessive wear and tear might make your dishwasher vulnerable to potential mold exposure and accumulation
You can avoid moldy clusters and infestation by maintaining a regular cleaning schedule for your dishwasher. Use natural agents like vinegar and baking soda mixtures to eradicate localized mold. I
That said, you should call professionals for assistance when the situation gets out of hand.
How to Identify a Moldy Dishwasher?
Unlike molds hiding behind drywall and wet wallpapers, you might not notice signs of deterioration until it's too late.  That's because you don't go searching for mold in the dishwasher by checking dark, damp, and discrete areas inside the appliance.
Nevertheless, there are some tell-tale signs that reveal its presence. They are as follows:
Musty, moldy smell mixed with the odor of rotten food
Poor air quality felt whenever you open/use the dishwasher
Small black or brown clusters forming in the interior parts of your appliance
Discoloration and stains found inside dishwashers
Suppose these signs begin to appear after heavy rainfall or a recent plumbing issue. Alternatively, your old and worn-out machines might turn into moldy dishwashers because of their unkempt conditions.
In all cases, you need to keep your dishwashers dry and free from moisture at all times. You can do this through routine maintenance checks and proper cleaning.
If things remain the same, you will need to hire a certified professional for a thorough mold remediation service.
Can Mold in the Dishwasher Make You Sick?
Yes, mold poses a health hazard for individuals exposed to it daily in confined spaces. These include homes, commercial kitchens, and dishwashers in office kitchens. People who have breathing problems and allergies might face severe health issues.
You may observe evident signs when they come in contact with mold spores regularly.  It could be through its unseen presence on plates, cups, and utensils that came from the dishwasher.
Common symptoms after mold invasion include:
Breathing difficulties
Wheezing
Sneezing
Coughing
Irritable and watery eyes
Rash and skin allergies
Stuffy nose
Your deteriorating condition might look like the common flu to an untrained eye.  Due to this, many families don't realize the severe health-related consequences of mold until it's too late.
Calling Home Restoration Experts:  How Does Home Remediation Work?
911 Restoration of Greensboro offers immediate help for homeowners dealing with moldy dishwashers. You can count on us to schedule a free home inspection within 45 minutes of your call.
Our IICRC-certified specialists create personalized plans for mitigation by inspecting the target site.
Here's a glance at what happens next:
Mold Evaluation.  We use specialized detectors and industry-specific devices to analyze the situation. Some sensitive tools measure mold spore percentages and identify the types of fungi residing inside your dishwashers.
We use this information to plan for remediation to ensure our efforts align with the unique challenges your house presents.
Mold Removal. Our home restoration experts come in with protective gear to treat the contaminated corners of your home. We take result-oriented steps to eliminate all traces of mold in the dishwasher and surrounding area.
Sanitization and Deodorization.  We clean,  disinfect and deodorize moldy spaces to eliminate the bad musty smell. Additionally, these steps kill germs and other harmful particles accumulating inside and outside the dishwasher.
After this, we conduct another evaluation to ensure that there's no sign of mold in the dishwasher and other areas of your home.  We do all this to minimize risks and make your homes livable after infestation.
In a Nutshell
Mold in the dishwasher might be a common problem, but you should never ignore it. Your negligence could lead to costly repairs and life-long health conditions without early intervention. That's why we strongly advise you to hire us for our mold remediation service to fix your moldy dishwasher.
Ready to call? Contact 911 Restoration of Greensboro for moldy emergencies today!