Identifying Signs of Mold after a Tropical Storm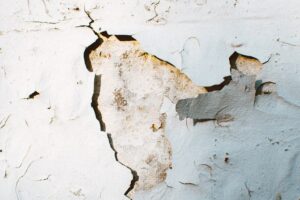 Despite technology allowing us to track weather changes, Mother Nature can be unpredictable. Tropical storms can develop and hit without a warning. It's why you should know how to check for signs of mold and water damage to mitigate property loss and long-term health risks.
If you've already experienced stormy weather in the last few weeks, you might want to get into action ASAP. That's because every minute you wait gives mold spores a chance to spread around your living and working spaces.
Here's a step by step guide to follow:
Step 1: Target Vulnerable Sites
Mold infestations occur in dark, damp, and cool places with high humidity. The moisture buildup accelerates their growth, causing it to spread around the house and office. You can keep the situation under control by finding the primary source for the mold infestation.
This requires a thorough search of the most likely breeding grounds for mold infestations.
Here are some possible places to check for signs of mold:
Inside the air ducts and vents of your HVAC system
Underneath the drywalls and plasterboards in your ceilings/walls
Under the water damaged floorboards
Inside, the gutter and drainage lines clogged by debris and storms
Under the sink, bathtub, or shower, especially in areas that remain damp for prolonged periods
In flooded basements and beneath leaky roofs
Once you have checked these sites, you should survey other areas within the premises too. This way, you won't have to worry about hidden mold sites in the future.
Step 2: Identify the Signs of Mold Infestation
Learning how to check for mold requires basic expertise on what it looks like and its underlying impact on structural elements.
Here are a few sneaky signs of mold growth, according to the CDC and the EPA.
Discolored interior and exterior walls with greenish-yellow or black patches or brown specks
A musty old smell near the main breeding grounds for mold
Damp floorboards and walls with dark patches
Crackling or bubbling drywalls in the ceilings and walls
Peeling paint
Visible roof leaks, puddles near the foundation or minor leakage around the vents
Grout is present on the white tiles inside the bathroom and kitchen
Besides this, poor air quality can cause your health to deteriorate when you're living/working around mold. Common symptoms include congestion, coughing, wheezing, sneezing, headaches, rashes, and itchiness. Respiratory problems are the biggest concern here due to their long-term effects on your health.
How to Protect Your Home/Office from Mold?
If the mold growth seems invasive, you should call a home restoration company for assistance. 911 Restoration of Greensboro is a popular choice in your area. That's because we offer complete essential services from water extraction, drying, sanitation, and deodorization to reconstruction. Having professionals by your side increases the effectiveness of your mold remediation plan.
Step 3: Should You Restore or Replace Infested Items?
If your belongings and inventory have been submerged in water or are damp to touch, you might consider an R vs. R treatment. That means deciding to toss aside non-salvageable items to prevent a massive mold infestation.  Check for discoloration, musty smell, patches on the surface and underneath it.
Here are items you can restore:
Semi-damaged wooden furniture can be restored without any trouble
Electronics and appliances based on warranty and water exposure
Books, photo albums, and confidential documents can be recovered with the aid of a home restoration company.
Non-porous items such as cutlery, utensils, jewelry, and more
Upholstery and other textiles that show no signs of damage
The right technician can turn the situation around by reversing all signs of mold damage. They use specialized equipment to dry off moisture and sanitize the infected articles. After that, you can return them to their original storage.
Prepare for Property Loss
There might be times when you can't continue to use mold-affected objects in the house due to their severe condition. In these cases, you should throw away musty carpets, rugs, soaked paperbacks, files, upholstered furniture, and electronics.
Once you get rid of these infested items, you increase the likelihood of eradicating mold from your indoor spaces.  In turn, it allows our technicians to move onto the restoration phase.
Parting Words
In the end, never take water damage restoration or mold remediation lightly. Even if it appears to be a non-threatening issue at first, you might have to deal with severe health consequences later. In addition to this, you will face costly maintenance issues, poor air quality, and property restoration problems.
Therefore, you should call the certified crew from 911 Restoration Greensboro to tackle the situation professionally.  As a certified home restoration company, we offer a wide range of recovery services after storms and other natural disasters.
Call (336) 310-5344 for emergency support or home inspections whenever you want help.