How to Save Hardwood Floors After Fire Damage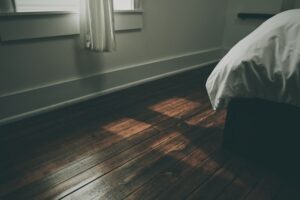 Hardwood floors enliven the aesthetics and ambiance of any home, apartment, or condo. Unfortunately, when hardwood gets damaged following a fire, it can deteriorate the overall look of the room or space. Fires are unpredictable and can cause different types of damage depending on the heat intensity and the wood used to make the floors. Once the fire is out and you've evaluated the damage, you should call home restoration services to fix the damage. However, if you know how to save hardwood floors after fire damage, you save yourself time and a lot of money by taking care of some repairs and cleaning tasks.
In this post, we'll share how Greensboro residents can save their hardwood floors from fire damage like professionals.
Cleaning Hardwood Floors After Fire Damage
Before you can begin to salvage your floor, take a good look around to assess the damage, especially burnt or scorched flooring materials. If you're lucky, the damage would be limited to smoke, soot, ash, and odor, all of which you can clean and deodorize. However, before you begin cleaning, make sure the fire has been extinguished completely and the room has cooled down. Since many of the cleaning materials are flammable, be sure to open all your windows and turn off all the switches. Other safety measures include wearing protective gear like thick boots, goggles, gloves, and knee pads to make cleaning more comfortable. Furthermore, try not to walk too much in the damaged area to prevent the soot or ash from settling in and cause more stains to the floors.
Here's how to save hardwood floors after fire damage with cleaning:
1.    Remove Water and Dry the Floor
The first step to cleaning hardwood floors after fire damage Greensboro is to remove the water and dry the floor following the firefighters' visit. You can use whatever you have at home to soak up the water, from rags to towels, and even a vacuum pump if the water is too much. However, when you're using towels, don't rub them against the floor; otherwise, you'll push the ash and soot further into the wood. Once you've removed the water, turn on the fans or a rental de-humidifier to speed up the drying process.
2.    Remove Soot, Ash, and Other Debris
After drying the space, use a vacuum to collect the soot, ash, and other debris without pressing the hose directly against the hardwood floor. Start with the edges of the room to avoid setting stains as you move across the floor. Make sure you check for debris under your furniture and appliances. If you can, take everything out of your room to make cleaning easier. However, if your floors are burned or charred, skip the clean and hire a home restoration service to replace them.
3.    Scrub the Fire-Stained Hardwood Floor and Rinse with Clean Water
Once you have collected the soot and debris, get rid of the fire stains. All you need is some liquid soap and a bucket of warm water. Use a sponge or rag to scrub the floor gently with the grain to avoid scratches. Repeat a few times until you have removed the stain completely. If you feel like it's not working, switch to an oil-based soap. Once the stains are gone, rinse the floor with clean water to eliminate the soot and soap using a mop. Change the water if it gets murky from the stains.
4.    Repair or Replace Damaged Flooring Materials
To repair or replace damaged hardwood floors yourself, you'll first need to remove charring and stains via sanding. However, this is a complicated process and requires professional intervention in most cases. Services like 911 Restoration in Greensboro use the proper, cutting-edge cleaning equipment for the repair job, i.e., equipment most homeowners don't have in their sheds or garage.
5.    Polish
Once you've cleaned, repaired, or replaced the hardwood floors, you should finish the job with nice polish work. There are hundreds of hardwood polishes available online, but we recommend sticking to the original color. Just make sure the floors are clean and dry before you apply the polish.
Let the Experts from 911 Restoration Take Care of Your Hardwood Floors
Property owners in Greensboro aren't strangers to domestic fires, which often lead to great damage. Whether it's a small fire in the kitchen or an electrical fire in the bedroom, 911 Restoration of Greensboro can take charge and fix the damages to your property. With a highly-trained and experienced fire damage restoration team, we know what it takes to bring your floors back to their original condition.
Feel free to call us today with any questions or concerns regarding our services. If your floors have sustained water damage during the firefighters' efforts, you'd be relieved to know that home damage drying is included in our fire damage solution.